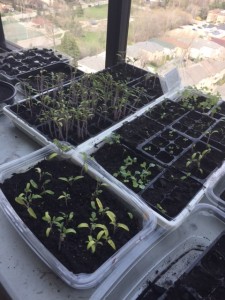 Spring is here and there is lots to do in the garden! If you enjoy working with plants, meeting your neighbours and being out in the fresh air, please join us for any of these volunteer events located at our garden.  Everyone is welcome, with or without gardening experience. We will provide all tools.
Community Clean Up – Cancelled on April 21st due to ice.  
We have cancelled the cleanup day scheduled for Saturday April 21 due to lingering snow and ice.
April 28 and May 5 – Soil Prep
When: Saturday April 28th 10 AM-Noon (Rain date* Sunday April 29th 2 PM – 4 PM)
AND Saturday May 5th 10 AM-Noon (Rain date* Sunday May 6th 2 PM – 4 PM)
What We Will Do:  Prepare beds for planting by spreading new soil and weed suppressing newspaper.  If you like raking or using a wheelbarrow or have an interest in compost, this will be your kind of work! We will also be completing any clean up activities remaining from earlier weeks such as harvesting seeds, removing annuals, raking leaves and picking up garbage.
May 12, May 19 (Victoria Day Weekend), May 26 (Doors Open Weekend)
When:  Saturdays May 12, 19, 26 at 10 AM – Noon (Rain dates* Sundays May 13, 20, 27 at 2 PM – 4 PM)
What We Will Do:  PLANTING!!!!  We have a wonderful variety of vegetables, herbs and flowers to plant, from seeds to seedlings and bushes.
*When to use Rain Dates:  Well, this is Canada so it is best to be prepared for the weather.  Use the indicated Sunday Rain Date if there are heavy rains or thunderstorms on Saturday morning.
Weekly Work Shifts
Regular weekly work shifts will start in June and run throughout the summer and early Fall.  Please feel free to drop by to assist during these times.
Wednesday 6:30 PM – 8:30 PM (work/sales)
Friday 9:00 AM – 11:00 AM (work)
Saturday 10:00 AM – 12 Noon (work/sales)
Sunday 4:30 PM – 6:30 PM (weeding/watering)